Zambia Update December, 2021.

First of all, we would like to take this opportunity to thank you for being so faithful in prayers and endless support. Because of your commitment to God's work here in Livingstone, Zambia, we have seen many wonderful things happening among us. As we share God's love and goodness we are seeing families begin to be built-up and hope grow within the communities.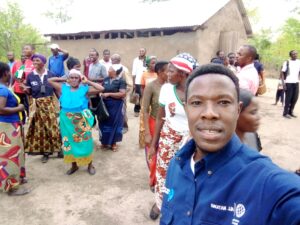 As some of you may know, my wife and daughter, Hadassah, have been in the United States since the end of September 2021 for Hadassah's medical treatment. We were hoping all the tests would be done before the end of December. Unfortunately, everything has changed. The doctors in the States advised that all the testing (MRI and EEG) which was done in Africa, be redone due to the reports not being clear. Hadassah has been diagnosed with Tuberous Sclerosis. On top of the tests she has already done, the doctors have recommended additional testing. The appointments are running into the end of March. This means, my family most likely won't be back to Zambia until mid- August, after our 2nd child is born in May of 2022. Once the new baby is born he/she will need to be tested for tuberous sclerosis and passport paperwork will need to be completed in order for them to travel. Yet in all this, God made a way for us and we believe He is going to make away again and again.
Even though there are still uncertainties due to the pandemic, we rejoice that the virus cannot stop the mighty movement of the Holy Spirit among the Nations. We are excited about continuing to break new ground in communities for the cause of Christ.
While my family is in the United States, God's work continues here in Zambia. Though our vehicle is older we are still able to drive miles through dusty roads to share God's love and do discipleship training. I have been given new opportunities to connect among various communities, leading Bible study groups and training new disciples/ leaders. These disciples are equipped to go and share the good news with their local villages and communities. It's always exciting to see how hungry people are for God's word.
Our last discipleship training for 2021 was on December 18th.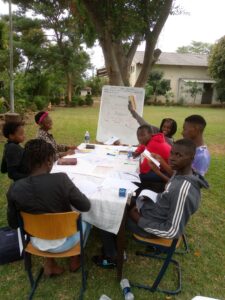 Many of our youth that we have discipled over the years have just graduated 12th grade. They are moving on to the next step in life which can be very challenging with all of the unknowns. Please keep them in prayer to allow the Lord's leading in their lives and to use the tools given to them.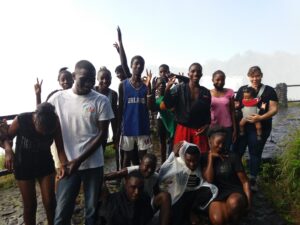 Over the Covid-19 pandemic my wife and I started a new project that has been very successful. We have the COMMUNITY BANK up and running. Through your support, we are able to help feed the hungry, through Family Relief Packs, as well as supply clothes, shoes, medication and school needs. With this outreach God has opened the doors to build relationships and share the gospel.

As we look ahead in 2022, we are planning to train more local leaders (disciples) that will, along with your prayers, have a significant impact on Kingdom growth. Please consider helping us with materials for our discipleship training programs. We would like to purchase Bibles, portable whiteboard, a projector, a battery power supply, and a rechargeable speaker.

If you or someone you know (individual, church or organization) would like to be a part of what we are doing here in Zambia, you can partner with us. By giving monthly, annually, or a one-time donation either online: https://www.allnations.us fieldworker: Holt, Faith and Muunga Fred -178 OR by mailing in a check to: All Nations Family P.O. Box 55 Grandview, MO 64030 (Please do not write in memo on check. Use a separate piece of paper with fieldworker: Faith Holt -178). If you have any questions or would like to meet in person please contact Faith Holt at (609) 813-0146 (US Cell) or by email at: [email protected]

Thank you for your continued love, support, prayers and partnership in the gospel. We could not do any of this without you.
His Willing Hands and Feet,
Update from the field JUNE, 2021.

Though our feelings may be real and true, they are not the truth. God's word is the truth. When we feel that God is far, we must remember His word and promises.
WE will pass through waters and rivers of hardship and uncertainty and walk through fires of life. But God promises, "I will be with you." In the midst of the fire, like He was with Shadrach, Meshach and Abednego (Isaiah 43).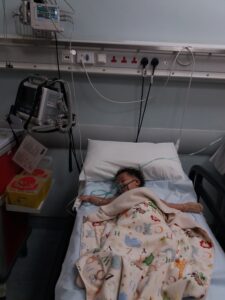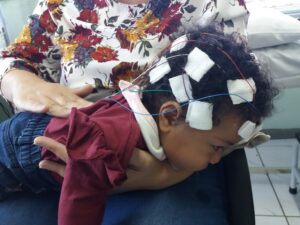 This year started on a good note with so much plans but unfortunately things went in another direction. We have spent most of our time travelling to and from Lusaka over 480km seeking medical advice for Hadassah, who has been suffering from seizures this year. After several tests, the neurologists in Zambia have found her brain to be covered with white matter, which the doctors believed at first was due to lack of oxygen to her brain, probably at birth. However, now they are leaning towards a genetic disease, by the pattern of white matter on the brain. By this news we were very discouraged, but we are trusting God's report of complete healing. Genetic testing is not available here in Zambia, so we are planning to travel to the USA and have it done. Despite these challenges, Hadassah is developing well and has had no seizures since her medication change. She is growing up so fast and can sit on her own.

We would like to thank you all for your powerful prayer support, and generous financial gifts to help out with our medical and travel expenses, as well as your monthly financial support which allows us to continue to serve the Lord here in Zambia.
In our own strength we have no control over what happens around us. Especially in these unwavering times. However, nothing that happens takes God by surprise. Our Father knows all that has, is, and will happen. He tells us, "We do not have to worry or fear."
Despite all of the travelling and pandemic crisis, ministries continue to prosper in so many different ways. For the past few months we have been connecting with some villagers within a new community called Natebe. Our youth groups, which are spread out in different communities, have been multiplying. We are currently training leaders among the youth. They are being empowered to disciple and influence others within their community by sharing the love and word of Jesus Christ.
We are so grateful for every opportunity God gives us to love on people He puts in our path. He is also working through us to serve not only those with spiritual needs but also with physical needs.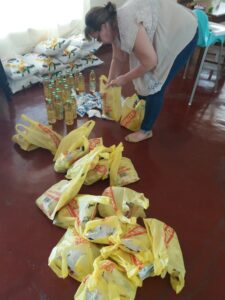 Through our new program called, "Community Bank" we are able to feed (family relief pack), supply medication, clothe and send vulnerable children to school.


We have yet to continue with our sign language lessons but have been connected with a lot of the deaf in different communities. Here is one of our good friends, Jane, who is deaf, and her 2 hearing boys. She works at our home once a week and continues to teach us. We were invited to watch her perform in the deaf choir. It was inspiring and beautiful.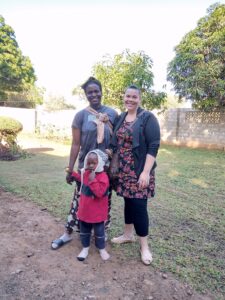 Huge Answered Prayer:
My wife's permit has been approved (Spouse permit).
Prayer Request:
– God's leading
– Complete healing for Hadassah
– God provision for our trip to the US
Fred, Faith & Hadassah.
Thank you for your continued prayers and unwavering support. With your partnership we are able to impact family's lives by providing needs and sharing God's love.
His willing hands and feet,
END OF YEAR UPDATE DECEMBER, 2020.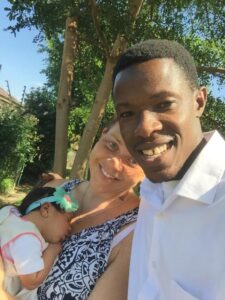 It is that time of the year again (favorite) when everything around us depicts Christmas. A time when families and friends come together to celebrate Christmas but unfortunately the pandemic has penetrated and affected the whole world.

The year has been somehow different in the way things are to be done. If we are to describe 2020 by one word, it will be "despair." But as children of God, we must not despair. Hope is the anchor of our souls (Hebrews 6:18-19).

Even if we are in this changing world, we are confident that we have a Kingdom that cannot be shaken. Our King does not change, he is the same yesterday, today and forever more. He is to be trusted and it is only in Him we can all find Joy and Peace.

It has been a year of doing things somewhat differently than planned, but God is so faithful and good. His plans for us are always good. It's been a busy, uncertainty, stressful, overwhelming and at the same time it was the best year. This year we have been blessed with a beautiful daughter (Hadassah Grace Muunga) born on September 27 2020. Everything this year was not done as planned. We were supposed to travel to States to meet up with families, friends and partners (supporters) but the pandemic penetrated the world and everything was closed.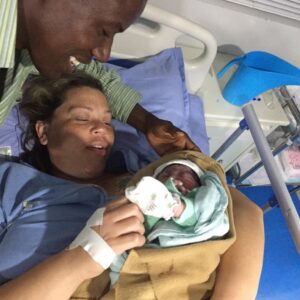 Ministry/Plans
In this uncertainty world, my wife and I have made the most of our restricted moments ministering to those God puts in front of us when we are running through streets, communities or when we are in stores. He is gracious to put people in our path that have physical and Spiritual needs. We give, love, disciple and pray when those opportunities arise. It's so amazing to see how those we are ministering/discipling are growing in the Lord. We do not have enough pictures for our groups/work. Our camera was stolen in Lusaka with all the pictures. We are so excited that now we are back where we live in Livingstone. It is nice that our group (church) is growing and our house was open to everyone even when we were away. When church buildings were closed we offered our house to everyone for fellowship and DBS groups. On December 29 to 31 with our partners we are having a youth leadership training (International Leadership Academy). We are so grateful to All Nations Family, Wellspring church, family, friends and supporters (partners) for your love, prayers and support.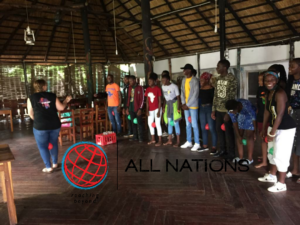 Through your support we are able to help a lot of people with physical needs (food, clothes and school fees).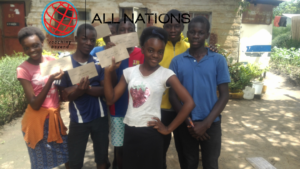 Some of our youth groups receiving some Christmas gifts!
Our plans are to start a community empowerment programs especially for women and the youths. We also want to go beyond the communities we are working with to the villages when we have a vehicle.

We are so amazed and grateful how miraculously our hospital, transportation and accommodation bills were met.

Prayer request,
• Wife's permit to be approved.
• Partners to join in God's work.
• Community empowerment program. We are not there to give fish to the community but teach them how to catch fish (empowerment).

Thank you for partnering with us through prayers and financial support. We are so grateful to have you and continue to pray for you all.

We wish you a Merry Christmas & New Year.
UPDATE JUNE, 2020.
This world has become a place of doing life somewhat differently than we expected. It has become a world of closed church buildings, bars, entertainments, travelling and many more other worldly activities that you may think of. The towns, cities, and other places we are used to are no longer the same. Yes, the world has changed. The world has been introduced to a life of face mask, social distancing and so on.
Could this be the new normal of living? I am sure God is saying and teaching us (world) something.
The disciples came to Jesus privately and said, "Tell us, when all this will happen? They wanted to know the signs for His return and the end of the world?
Nation will fight against nation, Kingdom against kingdom, famines, earthquakes, persecution, killing, hatred with each other and turning away from me.
When the nation stops fighting against nation, when the cities of our nation repent and turn to God, when people stop violence and killing each other, when people begins to love one another, when you and I get on our knees morning, noon, and night to pray for the Holy Spirit power to move us from the churches and into our communities. Then we can say revival has come.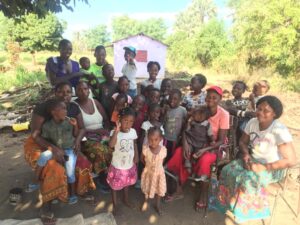 Ministry.
Over the past months our country also was in a lock down though not a full lock down. It became a day of closed church buildings, schools, tourism, entertainment, bars, boarders, gatherings etc. But Stores, restaurants, and coffee shops remained open (takeaway). The world is in panic, fear and worry. There is so much happenings around the world.
Though the world was locked down, it does not mean even prayers, worshiping, connecting through phones and discipleship were closed also. Maybe God was telling us that, "this is the time to strengthen and encourage someone with God's word through phone call, WhatsApp, signal, and we chart, Skype or zoom." My wife and I continued to check up on the groups, individuals and children we are working with through phone calls. It would have been better to use zoom, WhatsApp or Skype but regular phone calls is what people can afford here and we are all happy to be able to encourage and check up on each other. During lock down my wife could still go for work meetings once in a week.
Once or twice in a month we have a meeting (Online) with Randy Catlett from All-nation family who is our Pastoral care.
The good news is that Faith's youth group has resumed. Though the sad part is that, only 9 youth are allowed to meet at the property.
Meeting on the street due to Covid-19.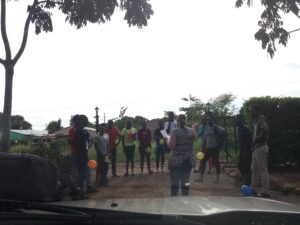 We started a DBS at our home last week with Japhet and we are yet to invite our neighbors to the group.
Needs/plans
Though we live in this uncertainty world we are still going to trust and worship God always and forever.
Our baby will be coming in few months and we do not know yet how the future look like in terms of flights and whether our baby will be born here in Africa or USA. Only God knows everything and we trust Him. Because of this uncertainty, we have decided to have a second option hospital here. That means, we will be going to Lusaka in few months and we are trusting God for the following needs while we are in Lusaka for maybe one and half month.
~ Transportation ~ Accommodation ~ Hospital bills.
We also plan to start a Community Bank Program (A bank were we can store mealie meal, cooking oil, sugar, salt, washing power, medication, clothes, shoes, books, bibles, sports equipment, funds for other projects like providing clean water to the village communities and many more things).
We are so grateful for your continued prayers and support!